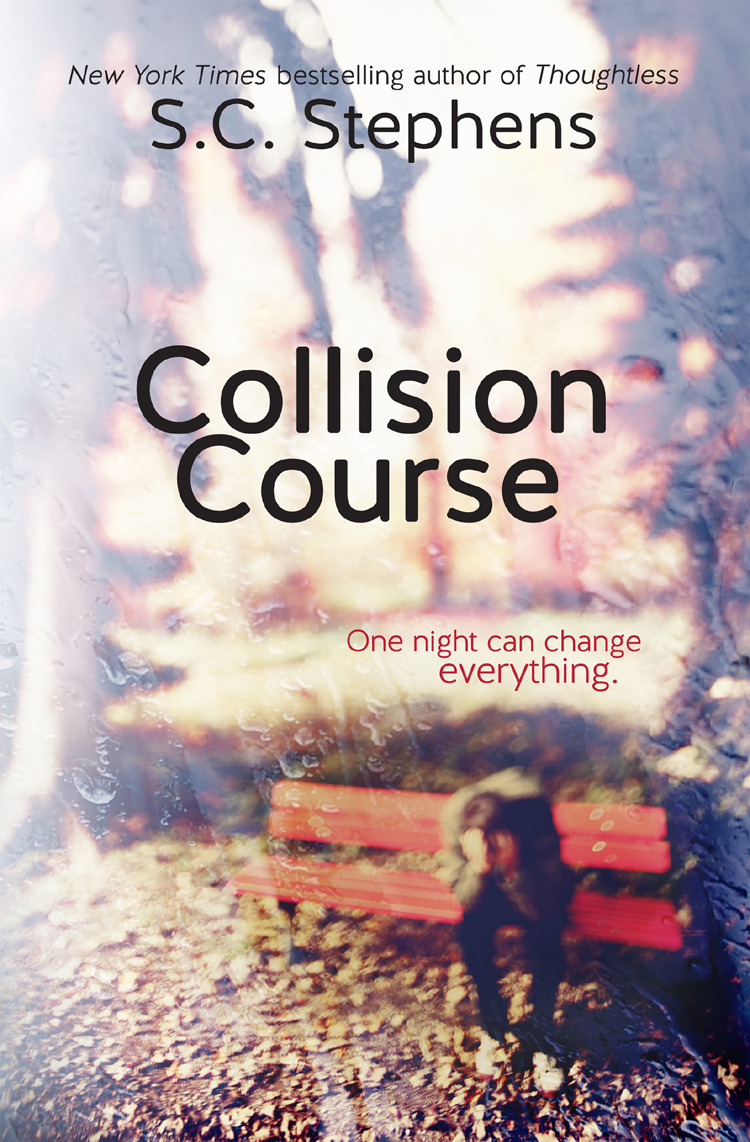 Lucas had it all—popularity, a devoted girlfriend, a brotherly best friend, and a loving mother who would do anything for him. His life was right on course to be successful and fulfilling…until the crash changed everything.
Late at night, during a sudden downpour, three young lives are lost and Lucas, the lone survivor, is left to face the consequences. Surrounded by swirling gossip as to what really happened that fateful evening, Lucas now finds himself an outcast. Shunned by former friends, condemned by the people of his small town, and riddled by his own guilt and self-hatred, he struggles to find hope, find peace, and maybe, even find love.
"A story of unbelievable depth and a true study of the human spirit, Collision Course will touch your heart, your soul, and drag you through more emotions than you thought possible. This is S.C. Stephens at her best. A must read!" -Nicky Charles, author of The Mating.
"Collision Course is a profoundly moving story. Ms. Stephens has penned another story told with raw, messy honesty, and I admire the hell out of her for it. She also writes with hope, and that isn't easy to do, with a story like this one." -Tammara Webber, author of Easy
"Collision Course is not a chick book. It is a human being book. I loved this story. Plain and simple." -Lisa's Reads
"A beautiful and tragic story about love, loss and hope. Wonderfully written characters whose journey will remain in your heart forever." -Totally Booked Blog
"Heartbreaking. Devastating. Hopeful. Collision Course is tragically beautiful story about recovering from loss and finding love when you least expect it, but exactly when you need it. SC Stephens never ceases to amaze me with her skill for creating incredibly touching tales." -Autumn Review
PURCHASE AN EBOOK COPY OF COLLISION COURSE
PURCHASE A PAPERBACK COPY OF COLLISION COURSE