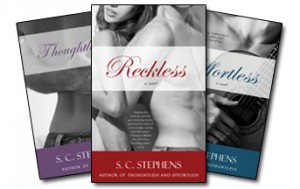 Happy Holidays!!! I can't believe that Christmas is almost here! I always find myself reflecting on all the things I'm grateful for this time of year, and one of the biggest things I'm thankful for is you—my amazing readers! I'm truly honored that you buy my books, talk about my stories with your friends, and drool over my leading men. Your support has allowed me to do what I love for a living, and I am forever in your debt for that. There is no greater gift that you could have given me, and while I can never repay you, I do have a gift for you. Well, for one of you.
From today until the 16th, you can enter to win a complete set of my Thoughtless series! That's Thoughtless, Effortless, Reckless, Thoughtful and Untamed. This contest is open to US and International residents. If the winner is in the US, I will do my best to get your prize to you by Christmas! If the winner is International, I might have the trilogy in your language!
Enter the contest here—-> Thoughtless series giveaway!
Thank you all for the years of support and encouragement! I can't wait for 2017!!